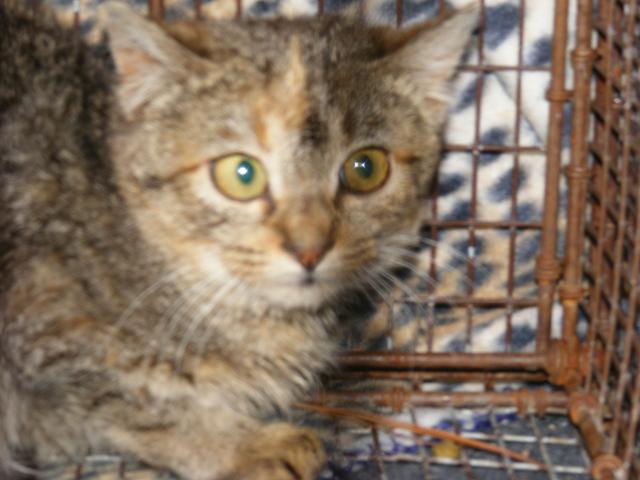 Trapped March 25,  2010

  This is little Callie a 6 mt             old little kitten with a                       rectal prolapse          

     and needing surgery 

Callie was born to a abandoned      stray and living with her                     un-spayed mom                                                                                                                                             

A small little family  one mom & baby                                          cost so far  over $400.00

Newburgh SCATS Inc

             P.O. Box 7403

        Newburgh, NY. 12550


UPDATE:

Mom has been spayed, given her rabies shot and T.N.R

Cost of $50.00

UPDATE:

Little Callie has had her surgery to correct her rectal prolapse and also spayed, given her shots and now resting comfortable at a foster home, while being socialized and turned into a friendly little kitten, She needs to go back for a check up and also her aids/leukemia test.                        Cost so far for Callie       $361.53

Most of our funds are spent on the Medical Expenses of stray, homeless, and feral cats & kittens that would otherwise die without a caretaker to help with sickness, injury or as with Little Callie  a possible birth defect. We help many cats/kittens that have major illness or injury that need help and no one owns them so, there is no help with most of the medical expenses.

We  always help injured stray cats, some need medical help others  are so far gone that euthanasia is the only way to ease their pain. We have received calls about cats hit by cars and left for days because they are strays and un-owned. Also some people do not have the money to pay for them to be humanely euthanised.  We never euthanise  a cat or kitten for any reason other than that is the best thing for the cat to end the suffering.

      THIS IS WHY WE NEED YOUR HELP

This poor BLIND cat was abandoned at one of our colonies just days before a Major Snow storm hit the area, due to all the underbrush where he was dumped, and his fears of his new surroundings it took a month for us to trap  him.                     The outcome was not good.

We  named him Rusty and  he was very hard to catch, He was scared and not about to let us get near him, he was living in very heavy underbrush and we could not get in to help  He was wandering all around and did not know that we were trying to help, it took about 4 wk's for us to finally catch him and get him to Banfields at Petsmarts in Newburgh, But by then the damage had been done, When the Vet touched him, he was so terrified of not knowing what touched him he went wild trying to get away from us by trying to climb the walls in the room.  He had to be sedated to touch him and to check him over.  When they examined him they found several severe bites that were now infected, He also tested positive for Aids. Having a compromised immune system, because of Aids, the vet did not think he would survive the major infections, and because of his mental state of being scare to be touched the decision to put him down was made. 

                  Who ever abandoned this Blind cat and walked away just remember

                                                         GOD IS WATCHING

April 3, 2010

Cost for Rusty   $189.00

Our Memorial Day Weekend Fundraiser started out like normal. Trying to raise money to replenish our cats medical fund.What was different about  this sale was a urgent phone call as I walked out the door to get to the sale.  A cat was stuck in a tree in Newburgh about 45' feet off the ground for 6 days and not about to come down.  Many phone calls were made asking for help with this poor cat...  A very bad weekend to be needing help. Finally on Memorial day we were fortunate to have the city of Newburgh Fire Dept come to help with a ladder truck.  But unfortunately when they tried to help the cat he was so frightened he only climbed higher.. Now about 70' feet and the Fire Dept could not help because of wires on the street.  Starting to look very grim for the poor red cat crying in the tree.  I came home and went on the Internet to see if I could find any other ideas to get this starving dehydrated crying cat down.  Much to my surprise I was luck to find a site www.catinatreerescue.com and a list of tree people that signed up to help get cats out of trees. I clicked on New York and found the closet person was over a hour away in Dutchess County.  I gave it a shot and called Mike. , left a massage and hoped he would call.   About 2 hr. later the call came.  Mike said he would come and was sure he could get Tarzan down. if it did not we would not have to pay anything.   A hour later Tarzan was now on the ground thanks to Mike . But Tarzan still needed to be rushed to the vets to get fluids because of dehydration.. I brought Tarzan home so he could get much needed care and to find his owner. A few days later his owner was back home.  After waiting for this owner to meet me. She never showed up to claim him, the decision was made to keep him and get  him to the vets to have him aids/leukemia tested and all his shots.  We also had to get him neutered His owner never did. Now Tarzan is ready to find a new home. One where he will be loved and  cared for by a responsible owner.  He is a little shy, about 2 yrs. old  medium hair orange male.  PS. he is also afraid of heights.

Cost to get TARZAN from Tree-------                                            -$ 175.00

Cost for offic visit & fluids at vets----                                               $ 155.00

Cost for testing,neuter,all shots                                                         $ 100.00

                      Total Cost     $335.00                                                                                                                             

Meet Chelsey & Kids

I received a call from the housing authority

a the Mullins Apartments in Newburgh, A stray cat was outside lying on the ground giving birth. She was a stray in the complex that lived there eating from the dumpster or whatever the residents put out for her. The man that called me was concerned about what would happen when the kids got home from school and seen her with the kittens.

I went down and seen she was in trouble giving birth.  3 of the kittens appeared dead and she was in distress. I picked them up and rushed them to the vets.

Once there they had to remove a dead kitten that she was trying to give birth to  and I was told they were not sure  all the babies would survive.

In the morning the vets called and great news mom and all babies were fine and ready to come home.  I went to pick her and the kids up and when I put her into her cage I notice she had had her tail chopped off some how.

The vets could not fix it until she was done nursing her babies. She was the most wonderful mom and her kittens thrived.

Now her kittens have finished nursing and it was time to get her tail amputated the right way and be spayed and given her shots.

She just returned from the vets and now I will try to find her and the kids a home

Click  on these small imagrs to enlarge